Round heated towel rail
Sydney Floorheating supply round and square bar heated towel rails, but can also supply non-heated and floor to ceiling upon request.

All of our towel rails are manufactured from high quality 304 grade stainless steel & mirror polished for a beautiful finish.

The heated towel rails can either be plugged in or hard wired to a switch with the cable flex concealed for a neat finish – the cable concealment tube comes in the box so you do not have to order this as a separate item.

Our heated range have a rating on IP55 which means if hard wired they can usually be situated right next to the bath or shower (always check with your electrician).

Check out our range of square and round heated towel rails. We can supply for your own electrician to install or supply and install when purchased with a supply and install of one of our under floor heating options.


Free delivery Australia wide
---
2 - 4 days
Heated towel rail features
Our heated towel rails offer great value
Round or square bar profiles
Heated towel rails dry your towels faster which means better hygiene and less chance of mold
FREE delivery Australia wide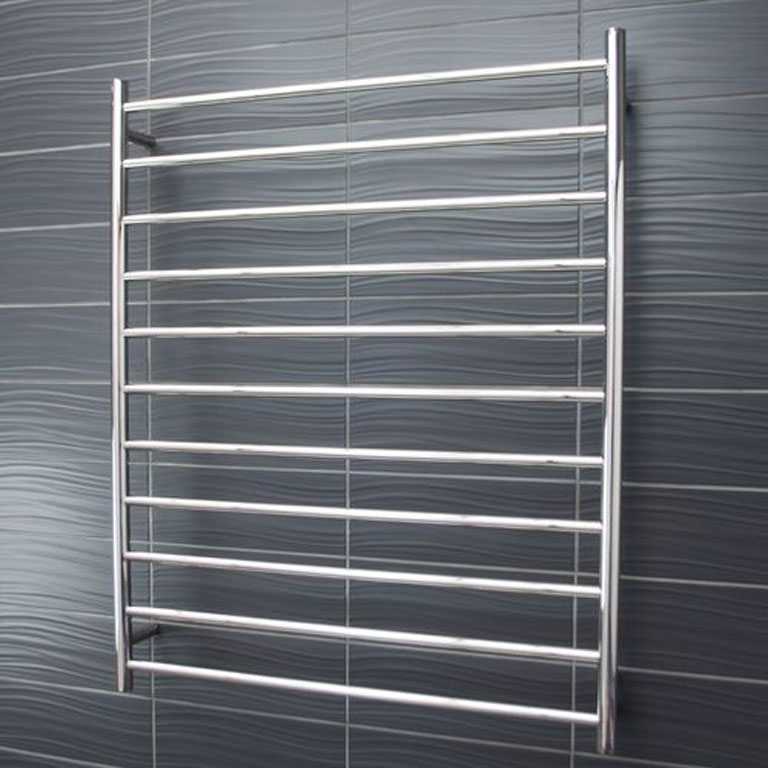 Round heated towel rail features
Mirror polished 304 grade stainless steel
Left OR right hand cable connection with moulded Australian plug
Concealed wiring kit included at no extra cost
7 year warranty
Australian approved - SAA
Check out our range and order yours today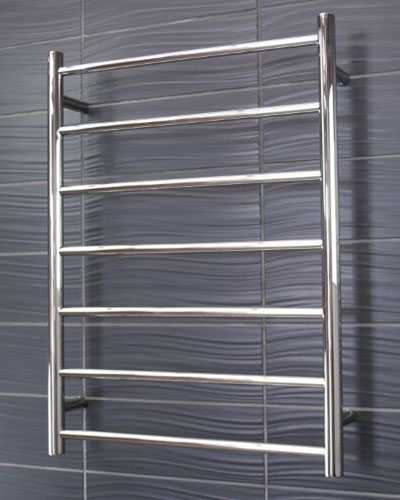 7 railRTR01
---
Width: 600mm
Height: 800mm
Bars: 7 Round
Watts: 75
Finish: Mirror Polished
Features
Evenly spaced straight bars
Wiring: Plug in or concealed
Concealed wiring kit included
Left or right available
---
Download technical specs for RTR01 heated towel rail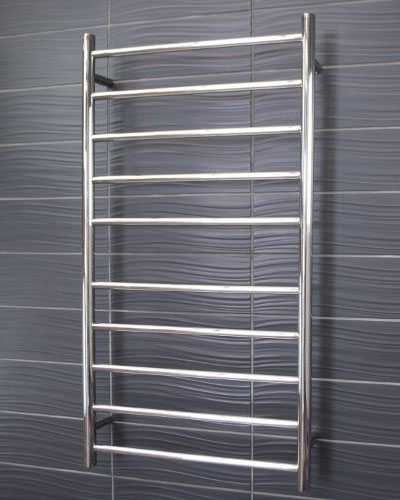 10 railRTR02
---
Width: 600mm
Height: 1100mm
Bars: 10 Round
Watts: 125
Finish: Mirror Polished
Features
Central gap
Wiring: Plug in or concealed
Concealed wiring kit included
Left or right available
---
Download technical specs for RTR02 heated towel rail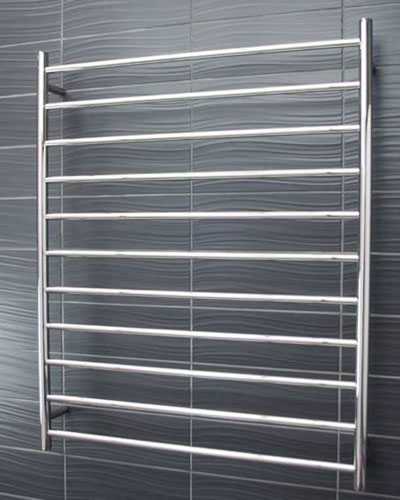 11 railRTR05
---
Width: 900mm
Height: 1100mm
Bars: 11 Round
Watts: 180
Finish: Mirror Polished
Features
Evenly spaced straight bars
Wiring: Plug in or concealed
Concealed wiring kit included
Left or right available
---
Download technical specs for RTR05 heated towel rail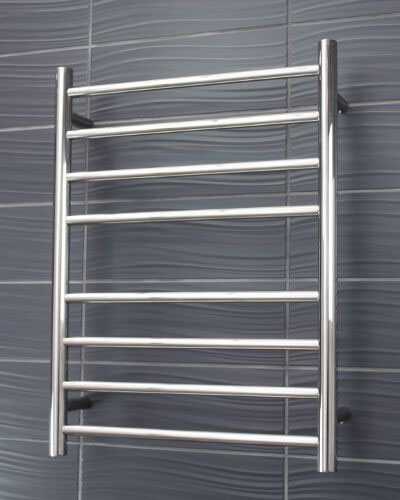 8 railRTR530
---
Width: 530mm
Height: 700mm
Bars: 8 Round
Watts: 65
Finish: Mirror Polished
Features
Central gap
Wiring: Plug in or concealed
Concealed wiring kit included
Left or right available
---
Download technical specs for RTR0530 heated towel rail
Heated Towel Rail Switches
Digital timer switches are a great optional extra which provides warm, dry towels every time. Simply program the timer to turn on and off as you need.
There's nothing as cosy as wrapping yourself in a warm, dry towel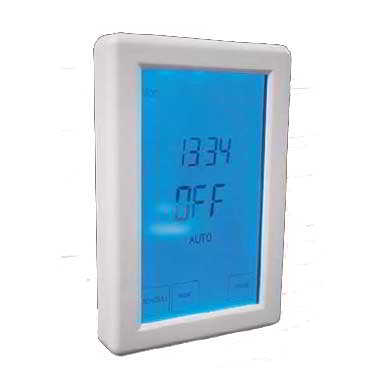 Standard timer
Timer features

Programmable 7 Day 24 Hour

2 programming mode options

Slimline design

Blue back light when operating

Responsive touchscreen

Max load 16a mps / 3700 watts

2 year warranty
TS8100W-TIM-V $165 incl GST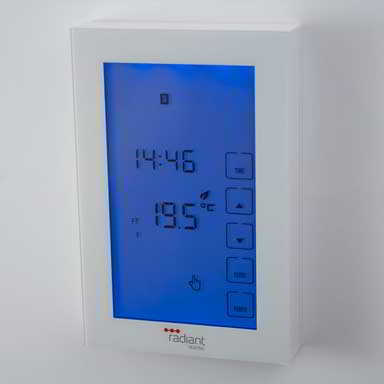 Glass front timer
Timer features

Programmable 7 Day 24 Hour

2 programming mode options

Slimline design

Blue back light when operating

Responsive touchscreen

Max load 16 amps / 3700 watts

2 year warranty
GTSW-TIM-V $190 incl GST
Download Specifications
- Standard Timer
Download Instructions
- Standard Timer
Glass Timer
Features Brochure
Download Instructions
- Glass Timer