About Sydney Floorheating
We combine straightforward floor heating
installations with top-notch service and advice.
The result? Happy clients.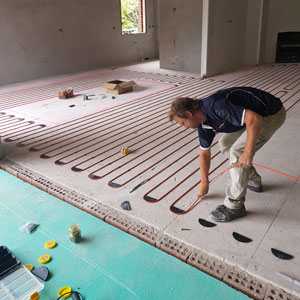 Who we are
Sydney Floorheating was founded by Peter Mottram. Our goal was to create a company that truly understood and met the underfloor heating needs of our clients. We offer a professional, personal, and considered approach to floor heating services.

We're dedicated to providing the highest quality electric underfloor heating systems at affordable prices with systems that cater for both renovations and new builds throughout NSW.

Our fully licensed electrical contractors offer either supply only or a fully installed service, and are equally happy to do a single bathroom, a full home or commercial property.

So, if your renovation, new build or development needs underfloor heating, why DIY when, with Sydney Floorheating, you'll enjoy access to an entire team of experienced experts – whenever you need them.
Why we're different
We've built a reputation as one of Sydney's most reliable and trustworthy electric underfloor heating and services companies.

Here's why
We are:
Approachable: Our friendly, qualified installers are here to help with even your trickiest floor heating issues
Experienced: Over many years in the floor heating industry, we've seen and managed it all – from the most basic through to incredibly complex issues across multi-level developments
Expertise: We have the know-how to manage your floor heating needs, so your home or clients homes will be warm in no time
Open: We tailor our solutions to your specific needs, and don't harbour any brand bias
Flexible: Our customised solutions can work for developments or renovations of any size, and in almost any situation
Committed: We're happy to invest the time required to understand your floor heating goals and provide you with solutions for you or your clients
Knowledgeable: We love tech and stay on top of the latest trends and developments, so we can provide you with the best possible advice and service
Client love
Here's what our clients say about us. To read more feedback, head to our Testimonials page.
I am now a floor heating convert. I had my doubts in the past when our clients had mentioned this form of heating but it's nice to walk into a warm house and not have to wear shoes and socks in the middle of winter.